The Herbaliser
hip hop // breaks 'n beats // downtempo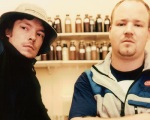 In '98, I spent the summer on a ladder scraping dry blue paint off an ugly house. Albeit a shitty job, I had a 2X CD-R drive at home that birthed a hiphop mix including The Herbaliser's "The Blend" featuring vocalist What What. One of my co-scrapers (from ghetto Hartford) dug the track so much that he replaced his prized Nas CD with the Herbaliser. I never saw that CD again. Now, the hip-hop powerduo is releasing their latest album,
Take London
, on the premire British beats label
Ninja Tune
. 'What What' was actually a psuedonym for female rapper
Jean Grae
who's now back to lend her vocal ferocity to "Nahmean Nahm Sayin". The loud, wide, brash production on this track complements her lyricism perfectly. Meanwhile, "Song For Mary" smooths things out to the downtempo tip; feels a lot like RJD2 on the rocks. This impressive sampling is an indicator of the quality on this CD; highly recommended.
Big, big sounds; slam brass hiphop and dope chilled beats.
The Herbaliser – Nahmean Nahm Sayin (feat. Jean Grae)
The Herbaliser – Song For Mary
buy this cd